So here we are with week 7 of
#MFRWauthor
. I did this hop last year. I came in late, like week 4 or 5, but didn't miss any after that.
That being said, one of the topics covered then was the same as this week. A few things went through my head when I saw this. I thought about skipping since I'd already done it. Then I thought about cheating, and simply
linking last year's post
to show my list.
Instead, I decided to come up with five new things. Daredevil type things, because why not? Gives me something new to talk about and gets me out of my comfort zone and always playing it safe. Now I'm not likely to ever do ANY of these things, but anything is possible right?
So in no particular order:
1)
Skydive
-The husband has done this. Once. In his youth and before me. I always say, "why would anyone jump out a perfectly good plane" to which he replies the plane isn't that good. LOL He said you have 'training' and such before they just take you up, and he had fun. It's a real rush according to him.
2)
Scuba dive
-When we got married, we honeymooned in Jamaica. For me 'in theory' scuba diving sounds like a fun thing. You could even take lessons at the hotel for a beginner dive and I thought about it. But the kicker? I have a fear of drowning. We tried to start small and go snorkling and I clung to the side of the boat. LOL Surrounded by that much water, nope wasn't my thing. But scuba diving always looks so good on TV.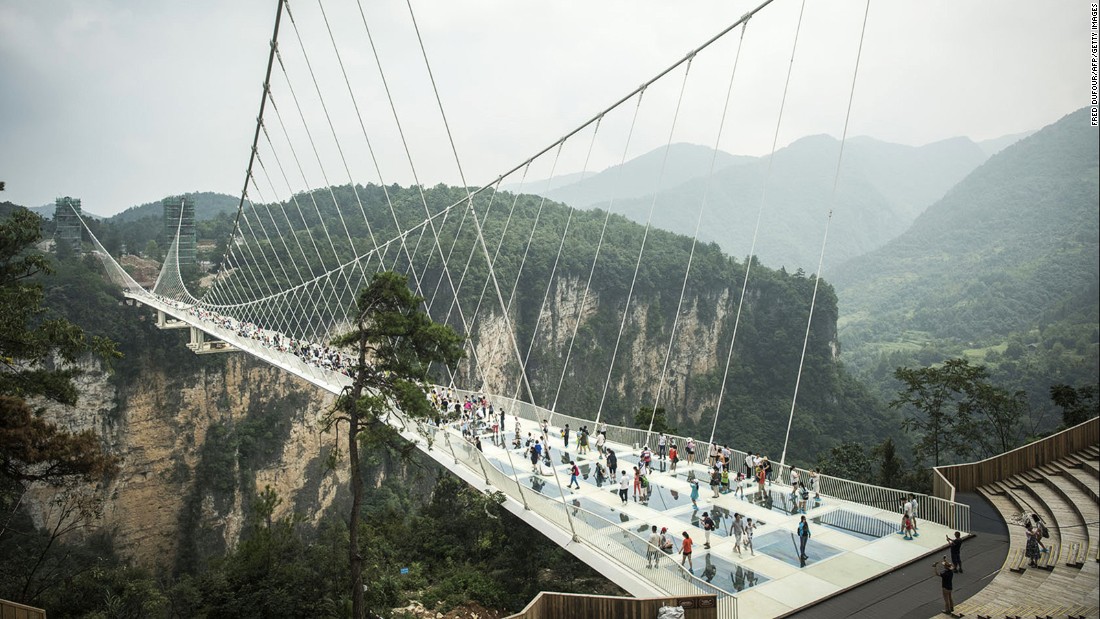 Photo source: https://www.cnn.com
3)
Zhangjiajie Glass Bridge
- This one required a picture in case you aren't aware of what it is. Yes, what you're seeing is correct. It's a glass bridge tourist attraction that spans across a canyon. Along with my fear of drowning, I'm not a fan of heights either, so yeah...this = TERRIFYING!!!!
4)
Eat something 'unusual'
-Now you're probably wondering what I mean by unusual. This isn't just trying new things, this is going WAY outside the box. I love the show Bizarre Food with Andrew Zimmeran. He travels the country exploring foods of that country and the culture within. This man has eaten some very strange things. Like VERY, VERY strange. His saying: "If it looks good, eat it." Well, not everything he eats looks good, but this list is all about going big or going home. I don't know exactly what I'd eat, so this is more open ended.
5) The final was a toss up between
ride one of the worlds tallest roller coasters
or
swim with sharks
. Inside one of those steel cages of course. Both factor in my two biggest fears. Is it a cheat to say both? That's really six things, but bending the rules is what I do (sometimes).
Either way, all done. Five (6) brand new things for my 'bucket' list. Do you have any wild and crazy things on your bucket list? Stop by and see what the other authors have on theirs.
Until next time,
~Meka